Home
COVID-19 Plan
KARATE VIDEOS
KARATE TOURNAMENTS
Ryoshin-Kan Martial Arts Association (R.M.A.A.)
Contact Information and GUEST BOOK
Black Belt News
DRAGON FORCE NATIONAL KARATE DEMO TEAM
Hanshi Thompson Bio
Grandmasters Bios
KARATE CAMPS
Karate Archive
KARATE NEWS and UPCOMING EVENTS
KARATE DISCOUNTS, Coupons, Classes, Gear / DVDs,
Martial Arts Styles, Karate Creed, Terminology, & "OBI" Belt Tying
LINKS, Seminars, Clinics, Sponsors
Karate Photos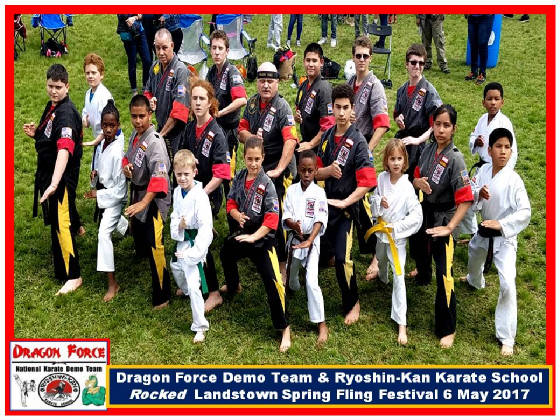 Dragon Force Karate Shows are Action Packed & Fun Filled!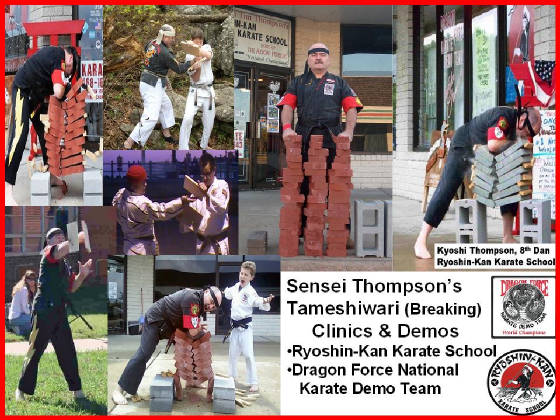 Click to e-mail Ryoshin-Kan / Dragon Force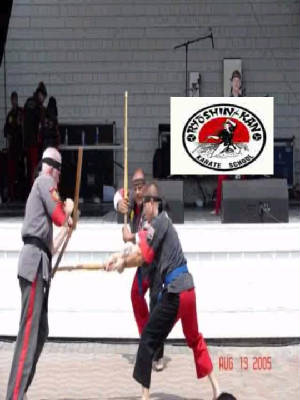 Dragon Force Karate Shows are routinely seen on the TAS TV Show, Local Media, Action Martial Arts and Karate Kidz Magazines and heard on "The Specialist Radio Show" on WYRM 1110 AM and WPMH 670 AM/1450 AM Radio.
Dragon Force Can help make your event a success. To schedule a Dragon Force Karate Show or Demo for your special event, birthday party, Club Meetings, PTA Meetings, or festival send us an e-mail or call (757) 468-1643.
"Go Dragon Force !"

Sensei Thompson's Martial Arts Seminars & Dragon Force Karate Shows
(I.) MARTIAL ARTS SEMINARS & DEMOS Shihan (Master) Tim Thompson and the Dragon Force Karate Demo Team are available to do Karate Shows and Seminars at your event. Shihan Tim Thompson is a 8th degree Black Belt Master Instructor, World and National Champion in Goshinjitsu (Advanced Self-Defense)and he has led his Dragon Force Team to win 12 National Karate Demo Team Championships. He was inducted into the World Martial Arts and World Karate Union Hall of Fame as Founder, Master Instructor and Goshinjitsu National Champion. Shihan Tim Thompson and his staff are available to conduct Seminars in Karate, Kobudo (weapons), Goshinjitsu, Breaking, Tournament Training, Team Kata / Pairs, Demo Team and more.
To schedule one of our Outstanding Martial Arts seminars or Karate Show / Demo send us an e-mail or call(757) 468-1643.
(II.)SPONSORSHIPS & DONATIONS
SPONSORSHIP PROGRAM:
If you would like to be a sponsor or make a donation to the Dragon Force Karate Demo Team, Call the Ryoshin-Kan Karate School (757) 468-1643 or send an e-mail to us and we will send / discuss Sponsorship details.
Official Dragon Force National Karate Demo Team Sponsors:
Congratulations to the following current Official Dragon Force National Karate Demo Team Sponsors and Donation Contributors:
Thank You!
Ryoshin-Kan Karate School INC

LCDR Wayne Smith USNR-Retired

Dr. Dennis Barson Jr. and Mrs. Elizabeth Barson

Karate Camp Participants

All Sponsors & folks who donated on Ryoshin-Kan's www.Gofundme.com/ms8jt0 site.

Sifen Development Company

If you would like to be a Sponsor

Click the below Link to e-mail us

or call (757) 468-1643.
JASMIN FASHION Store

"All Ryoshin-Kan Students and their guest get a Discount at this Store!"

Beauty Supplies, T-Shirts, Belts, clothes, etc.

Military Highway - Norfolk, Virginia.

Call (757)348-6558
Allen Loree Homes L.L.C.
Home Builder, Renovations, Remodeling.
"No Job to Big or small."
"Our Commitment Shows"
Allen Loree Homes LLC
536 Hannibal St
Virginia Beach, Virginia 23452
Phone: (757) 536-7220
E-mail: allenloreehomes@cox.net
Dave's Handyman Service
A/C, Electrical, Plumbing, Carpentry
Call (757) 449-6629
Click to visit Ryoshin-Kan Karate School on Facebook.
Sports Martial Arts Tournament / Demo site
Bobby the Clown's Party Animals (Clowns, magic & more)
Military Benefits / Discounts web site
Dragon Force Karate Team performs a Demo on Youtube 2009
Kai Loree Performs a Xtreme Bo Kata on youtube 2009.
Great Press Release: World Cup National Martial Arts Champions 2009
Great News Article on Sensei Thompson 13 November 2005
Great Newspaper Article on Dragon Force (1995)